Westborough Church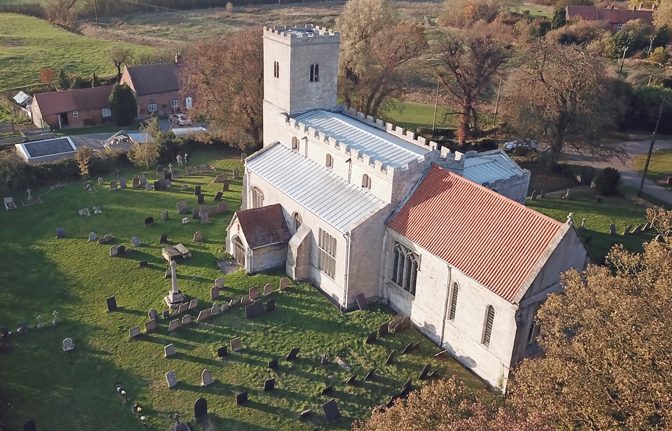 Westborough is mentioned in the Domesday Book as already having "a priest there, and a church, and there are 120 acres of meadow", but it is unknown when the first Saxon church was built on this site. Two small circular openings in the north wall are thought to be remnants of the earlier Saxon church on this site. They can be seen better from the outside of the building.
The church that we see now was built on nearly its present scale in the early 13th century, with a nave of three wide bays with narrow aisles, a long chancel without aisles, and a western tower.
The 13th century octagonal font is beautifully carved with interlaced designs.
In the late 14th or early 15th century, there was further building: transepts were added to the north and south of the nave; the Nave roof raised to provide a clerestory; the small chapel or sacristy was added on the North side of the Chancel, and a Porch built over the South door.
There are interesting old Oak bench ends reset into more modern seating in the Chancel: one showing the Devil licking the backs of those at prayer.
The walls have much original plaster, and two painted panels remain: the figures of Time and Death.
It is thought that the brick porch at the North door was added in the 18th century, and the Tower extensively rebuilt.
In 1951 a large restoration project was begun to restore and repair the church. Being so near the River Witham, damp is always a problem.
The Mediaeval Cross
It is unusual to find a mediaeval cross complete with base, shaft and knop. It is thought that the capstone now lies at the north end of the village. The cross was most likely used for both religious purposes, such as preaching and a central point for processions, and as a secular meeting place for the village people to hear news, proclamations and announcements.