Dry Doddington Church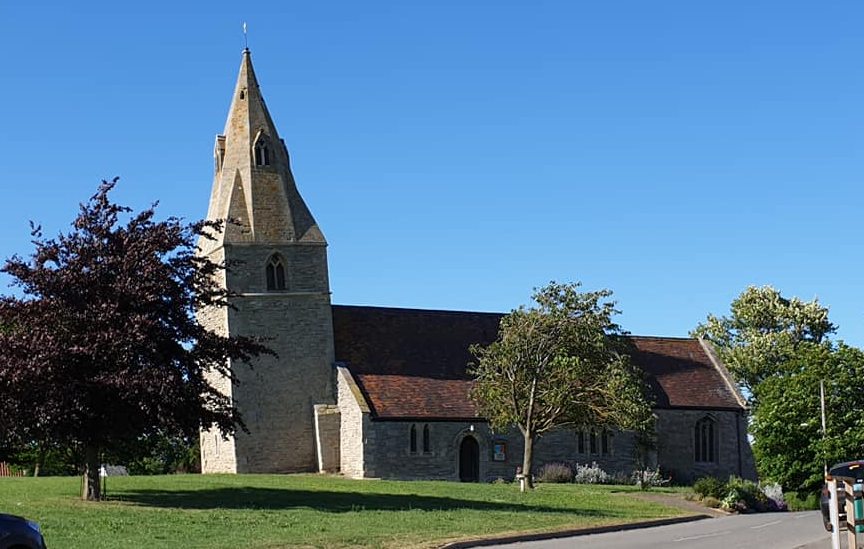 The name Dry Doddington is a combination of Old English "dryge and Dodda+ing+ton" meaning "dry estate of a man called Dodda". In the 1086 Domesday Book the village name is given as Dodintune.
The Parish Church is dedicated to St. James and is clearly visible from the Great North Road (A1), sitting prominently on the open village green.
An impressive building
The Church was built initially as a Chapel of Ease for All Saints Church, Westborough, becoming a separate parish later. It has a significantly westward leaning tower and is a Grade II* listed building dating from the 12th century, with the tower being early 14th century. Significant restoration (including raising the roof to it's present level ) was carried out in 1876 when it was consecrated. The tower is thought to have moved in the late 19th or early 20th century. It was underpinned in 1919 and appears to have been stable since then.
The Church Plan consists of a west tower with spire, a nave with north and south aisles and a rectangular chancel. It is built in limestone ashlar and blue lias with a plain tiled roof (fully retiled in 1996). The tower and spire are built in coursed rubble with ashlar quoins.
The 14th century bell is listed for preservation and is still rung occasionally. It was cast in copper and tin by John of Stafford who owned a foundry in Leicester, where he was mayor in 1371. His name and the date 1350 are stamped as an inscription on the bell. John also worked on the bells in York Minster and made the bell in Allington Church locally.
The bell became unsafe and was restored as a Millennium Project, when it was taken down and repaired. A new housing was made by a local joiner, along with new flooring and support timbers.
The church also contains a memorial to the 49 Squadron Avro Lancaster bomber that crashed near the village in November 1944. The aircraft, code name 'O-Oboe', was piloted by F/O Le Marquand (PB432) and had only been in the air for a few minutes before it came down, fully laden with bombs and fuel. Miraculously five of the crew of seven survived.
Services
Normally a monthly communion service is held on the fourth Sunday led by Canon Rev. Tony Tucker. Currently group worship services are being held via Zoom, due to the Covid-19 pandemic. Should you wish to join this service please get in touch with Cannon Tony Tucker to be on the circulation list and be sent the weekly meeting details:
Email: rectorclaypole@gmail.com
Tel: 01636 921161
Additional services are held on special occasions during the year. Details are also published in the monthly Village Newsletter.
Everyone is very welcome at any of our services - please do join in and meet Tony.
Much needed restoration
Standing as it does at the highest point in the village, the building has inevitably suffered from the effects of the weather.
Major restoration was completed to the badly weathered stonework of the tower and steeple including major repairs at cost in excess of £100K. An architect was appointed to oversee the project and following a detailed survey work on site started in March 2015 and was completed in September that year.
Approximately £12K was raised locally and together with a generous grant from The Heritage Lottery Fund this was sufficient for this first phase of the restoration work.
The Church is extremely grateful to The Heritage Lottery Fund for their support and to everyone who has contributed in any way to the fund raising.
The current major restoration project is for a new floor and fundraising is underway for this. The present floor is very uneven and the timber sections are badly rotted and infested with woodworm.
Future proposed restoration projects include repairs to the east window and other work to keep the building safe and to increase it's potential use by the wider community.
Annual Events
Normally we host a Harvest Supper in the Village Hall in September/October and a Christmas Tree Festival combined with a Craft Coffee Morning in December. Stalls at the Coffee Morning are provided by local artists and craftspeople. Unfortunately due to Covid-19 restrictions both events had to be cancelled in 2020.
We hope they will return again in 2021 and full details will be posted later.